Corinna Herden is a German-American soprano. She has sung solo concerts at the White House, performed with several opera companies, theaters and at concert houses in the USA, Germany, Austria, Italy, Iran, Jordan, and Israel. She has studied in Washington DC, Florence, Italy, and at the Conservatory of Music in Vienna, Austria.
Extended Biography
Born in Heidelberg, Germany where she was introduced to classical music at an early age, Corinna attended the private High School "Englisches Institut" and was strongly influenced by her fifth grade music teacher the late Deanne Seneschal Raszat who instilled in her a lifelong passion for opera. Corinna was very active in children's theatre and music programs and participated in a children's version of CATS.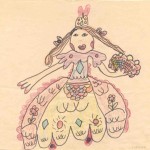 Corinna drawing at age 5
At the age of twelve Corinna moved to the Washington D.C. area. Being an early bloomer, she began classical voice studies at age 14 with opera singer Bonita Lestina. Ms. Lestina noticed Corinna's musical talent and gift for languages and immediately started her on a "musical diet" of German Lieder, French and Italian Art songs, English Aires and American Musicals. At age 16 Corinna moved again and transferred to opera singer Catherine Ford Herendza. Ms. Ford Herendza noticed Corinna's mature and strong voice and decided it was time for opera. At age 16 Corinna was singing arias from operas such as Gianni Schicchi, La Boheme, Die Zauberflöte and successfully participated in local teenage singing competitions. During this time she was heavily involved in High School and small local theatre productions and at age 17 played the lead roles in Andrew Lloyd Webber's EVITA and "Kate" in Shakespeare's The Taming of the Shrew. Her passion during this time was the Theatre and Corinna spent every moment after school on stage or in theatre and music workshops and attended summer school programmes such as the "Institute for the Arts" in Fairfax, Virginia where she was heavily influenced by her acting teacher James Torrenzano.
After early acceptance to George Mason University's theatre program Corinna immersed herself in a variety of stage crafts such as directing, acting, playwriting, stage and lighting design, stage management, makeup, costumes, fencing, Alexander Technique and the Stanislavski's system. She was especially interested in theatre literature of all genres in particular that of Shakespeare and in classical Greek theatre. She was additionally nurtured by "independent opera literature studies" with Dr. Rick Davis. From 1993 to 1995 Corinna was minoring in music and studying under Dr. Kathryn Hearden who expanded her world of arias and passed down a love of art songs and Lieder. In addition she participated in a summer long workshop specializing in the music of George Gershwin. In 1993 Corinna successfully participated in a Master Class with the legendary Sylvia Olden Lee (76 years old) who predicted a successful career in Corinna's future ("You watch out for that one…she's got what it takes"). In 1995 Corinna spent half a year abroad studying music history, Italian, art history and Italian cinema in Florence, Italy. In Florence she studied with opera singer Elena Cecchi Fedi . Under the guidance of Ms. Cecchi Fedi, Corinna's voice matured and was ready for heavier arias. Again an early bloomer - at age 22 Corinna's repertoire expanded to include arias from the leads in "Tosca", "Der Freischütz" and "Un Ballo in Maschera". Ms. Cecchi-Fedi convinced Corinna that singing was her "forte" and that she should now pursue the career of an opera singer. Therefore, after returning from Florence she decided to complete her degree in Theatre and pursue a second one in Music. She was now simultaneously taking classes at three different Universities as well as participating in theatre and opera productions and working various jobs.
Mid 1995 Corinna began studying under Anastasios "Taso" Vrenios with whom she would work with for the next 6 years. Mr. Vrenios was a favorite tenor colleague of Joan Sutherland and Teresa Stratas . Taso had studied with Ray Buckingham, Todd Duncan (the first Porgy in Porgy and Bess) and Margaret Harshaw ((former student of Anna E. Schoen-René - who was a student of Pauline Viardot-Garcia (sister of Maria Malibran) who was the daughter and student of the famous Manuel Garcia who wrote many Bel Canto manuals and for whom Rossini created the role of Count Almaviva in his opera The Barber of Seville). He would prove to be one the most important influences on Corinna's development. He lovingly passed down his knowledge and groomed her for many a lyrical spinto soprano role. During this time she also received coaching from Betty Bullock and Gillian Cookson (both associated with the Washington Opera).
This was a fruitful period and Corinna was singing in several concerts, recitals and opera productions in the Washington DC/Northern Virginia area as well as participating in Master Classes and Opera Seminars taught by Ryan Edwards (Metropolitan Opera), Peter Mark, Director of the Virginia Opera as well as audited a week long Brahms & Mahler Workshop taught by KS Christa Ludwig at Carnegie Hall in New York City. Corinna sang in countless opera productions and recitals with the Roanoke Opera (under the baton of Steven White and Craig Fields), The Metropolitan Opera of Washington/Baltimore (directed by Don Wiggins) and the Bedford Opera Company (which she founded to help young singers get opera performing experience). She sang the role of "Elvira" in the Mount Vernon Opera's production of L'Italiana in Algeri under the guidance of former Metropolitan Opera star Sally Long. (Other roles and parts of roles for Opera Workshops, concerts and recitals included: Adalgisa - Norma, Agathe – Der Freischütz, Amelia – Un Ballo in Maschera, Tosca - Tosca, Arnalta - L'incoronazione di Poppea, Musetta and Mimi – La Bohme, Countess Almaviva – Le Nozze di Figaro, Laurie - The Tenderland, Bess - Porgy n Bess, Malika – Lakme, Susannah – Susannah, Sandmännchen - Hänsel & Gretel etc. Opera choruses during this period included Aida, Tosca, Carmen, Il Trovatore & Die Fledermaus). Corinna sang many solo recitals for the Dante Aleghieri Society, The Old Post Office Pavillion, the Sedalia Center, The Wharton Historical Foundation, The Bedford Council for the Arts, The Avenel Plantation Historical Foundation, "Living Liberty" – American Civil War Commemoration as well as at celebrations for the newly erected D-Day memorial in Bedford, Virginia in honor of the Delegation of Normandy, France. Her concerts and recitals in this period were accompanied by pianists and dear friends Cathy French, Ruth Bedell and Peggy Hooper.
In addition Corinna was teaching voice lessons to ca. 20 Students in her private studio and worked as the soprano section leader at St. John's Episcopal Church in McLean, Virginia (whose prestigious congregation members included Colin Powell) . During one of the many charity concerts Corinna performed at nursing homes (Arleigh Burke Pavilion, McLean), she was approached by an excited, elderly Lady who enthusiastically predicted a great future for the young singer. It turned out her name was Helen Mae and she had discovered Jessye Norman decades earlier. They stayed penpals for a time and Corinna sent her tickets to her local concerts although she was already too frail to attend.
In 1996 Corinna participated in a concert Tour with the Camerata Nuove (under the baton of Francisco de Araujo) of the Holy Land which included concerts under the patronage of Queen Noor and King Hussein at the Roman Amphitheatre in Amman, Jordan, the Church of the Nativity in Bethlehem, the Jewish Theatre of Jerusalem and a very emotional, unforgettable, private concert for Ms. Rabin - a Requiem for her late husband Yitzhak Rabin the former Prime Minister of Israel (who had been assassinated just 2 years earlier) performed at the US ambassadorial residence in Tel Aviv, Israel.
In 1998 Corinna was one of two soloists chosen out of 2000 candidates to sing two solo Christmas Recitals in the East Room of the White House for VIP guests of President Bill Clinton. Before the concert she had the honor of signing the official White House guest book and received a private tour by the White House Social Secretary Capricia Penavic Marshall. Corinna's story of "local girl sings at White House" was featured in several community newspapers in the Washington DC area. In 2002 she sang her last two solo recitals in the USA, a Broadway recital and an "Americana Recital" for the 4th of July Celebrations at the Greenbriar Resort.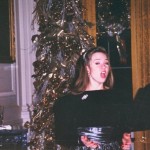 Singing in the White House East Room
Several mentors had been urging Corinna for years to take advantage of her dual nationalities, and language skills and pursue an opera career in Europe. Finally, in 2001, during a visit to a close college friend Anna Radev whose mother, the Bulgarian-born Mezzo Soprano Ms. Zvetanka Stoyanova (former La Scala soloist and student of Maestro Campogalliani) took Corinna to sing for the late Madama Era Tognoli and repeatedly urged her to move back to Europe, she decided to listen. In Summer 2002, after a year of saving her pennies working as an Activity Director in a nursing home for Alzheimers and Parkinsons patients and teaching voice lessons, she packed two suitcases and headed for Vienna, Austria the city of music - in hopes of landing a secure job in an opera ensemble (since "permanent ensemble jobs" had become all but extinct in the USA). In Vienna, Austria, Corinna participated in a Master Class with opera star KS Hilda De Groote at the Universität für Musik und darstellende Kunst (Music University of Vienna, Austria). This was the beginning of another fruitful period as Corinna was then accepted into the voice studio of KS De Groote at the Konservatorium der Stadt Wien (Vienna Conservatory of Music) the following semester. Corinna blossomed during the weekly Masterclasses taught by KS De Groote and accompanied by coach Manfred Schiebel. KS De Groote introduced Corinna to the world of Viennese Operetta and Wienerlieder and organized many concerts for her students to sing. Corinna sang an average of 2 weekly Operetta concerts (including music by Lehár, Stauss, Dostal, Stolz and Kálmán) as well as many recitals all over Vienna during the following 2 years. KS De Groote also sent Corinna to the Volksoper (Vienna's 2nd largest opera house) for coachings with Ms. Vaiculenas-Piss. As her time at the Conservatory came to an end Corinna was accepted into the private voice studio of opera legend KS Hilde Zadek (who was 87 years old at the time).
However, Corinna could not afford the expensive private voice lessons for long and was forced to discontinue her studies. After years of hard work, sacrifice and promise Corinna had to face hard facts. She had been living on the edge of poverty, working all sorts of odd jobs that were flexible enough to allow her to study and sing concerts. Now after years of struggling and finally realizing the lack of stable opera employment opportunities at the time, she made the heart breaking decision that she would have to quit singing in order to survive in the real world. In 2004-2005 Corinna sang a few last solo concerts. She sang arias (in Farsi) in the commemoration concert "Maroufi in Wien" at the Wiener Konzerthaus (original compositions by composer Sassan Mohebbi) and an Operetta concert for the Künstlerkreis at Castle Strechau in Styria, and participated in "Die Lange Nacht der Musik" at the Wiener Urania with her friend and pianist Maria Pagliafora. She also sang a selection of Persian folk songs for the "Persian Concerto" at the Semperdepot, as well as a collection of Persian folk songs and arias in private house recitals during a trip to Tehran, Iran. This proved to be an unforgettable experience since public performances for women are illegal in Iran.
As luck would have it, in 2005 Corinna was offered a job as a Civil Servant for a UN International Organization. As soon as she had reached "financial stability" she decided to pursue a third field of study – a degree she hoped, would this time around guarantee for excellent future employment possibilities. For the next four months she reviewed all the math she had learned in school, passed the difficult entrance exam and started studying towards an MBA at night – all the while working full time. In December 2007 she successfully completed a Master of Business Administration degree. During the years of MBA studies Corinna yearned to sing again someday – even if just as "a hobby". As a graduation gift composer Sassan Mohebbi bought her a mixer, microphone and taught her how to record, mix and edit herself at home.
In 2008 she timidly began to record herself, unsure if her voice was still "there" after such a long singing break. Then followed a few months of recording mania during which she recorded over 30 songs and arias to karaoke tracks, established her own youtube channel and forged many new internet – musician friendships on websites such as showcaseyourmusic.com and myspace, later winning second place in an online international singing competition. She began collaborating with composers online who wrote original pieces for her voice – a trend which still continues today. Example: "The Dance" with Harko Borgers
In 2009 after these initial singing "baby steps" Corinna decided to jump back into the arena – but slowly by joining large concert choirs such as the Konzerthaus' Wiener Singakademie and the Wiener Kammerchor. This way she could be part of the music world that she loved, yet safely stay in the background until she felt more comfortable being on stage again. During the period of 2009-2011 she participated in numerous choir concerts conducted by Georges Prêtre, Pierre Boulez, Howard Shore (composer of the Lord of the Rings soundtrack), Marc Minkowski, Bertrand de Billy, Philippe Jordan, Stefan Vladar, Vladimir Fedosejev, Martin Haselböck, Kirill Petrenko, Philipp Harnoncourt, Marino Formenti and Rafael Frühbeck de Burgos. She sang in the Konzerthaus, Musikverein, Theater an der Wien and the Grosses Festspielhaus in Salzburg. She participated in the Haydn festival at castle Esterházy commemorating the 200th anniversary of the composer's death and in a commemoration concert of the 66th anniversary of the bombing of Dresden performed at the Kulturpalast in Dresden Germany. She sang "backup–choir" to Anna Netrebko, Jonas Kaufmann and Erwin Schrott during their concert "Gipfeltreffen der Stars" at the Vienna City Hall (under the baton of Marco Armiliato) and to Chinese popstar Huang Hexiang at the Wiener Musikverein. Corinna also started to sing in operas again. She sang one of the "six sisters" and a nun (in Russian) in the opera The Fiery Angel by S. Prokofiev at the Odeon Theater (directed by Philipp Harnoncourt and conducted by Marino Formenti) and the role of a "Midinette" in Puccini's opera Il Tabarro at the Konzerthaus (conducted by Bertrand de Billy). She also sang in the chorus of the Pleyel opera "Ignaz und Ailina" in Grafenwörth (directed by Adolf Ehrentraut, President of the International Pleyel Association).
In 2010-2012 Corinna sang three seasons in the opera chorus of Opera Klosterneuburg in Carmen, Don Pasquale and Le Nozze di Figaro in which she was chosen to sing the chorus solo "Amanti Costanti". For many years Corinna has led a double life of regular daily office work during the day and singing or studying at night. However on one occasion her double life turned crazy as she had to attend a one day UN meeting in Monaco all the while being engaged to sing in the opera The Fiery Angel in Vienna. When the meeting ended she took a helicopter from Monaco to Nice, flew from Nice to Vienna and went directly to the Odeon Theatre to sing the role of a Russian sister & nun. During this time colleagues jokingly referred to Corinna as the "Opera James Bond".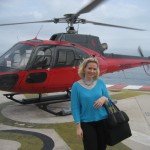 "Bond...Opera James Bond"
2009-2012 Corinna began taking private voice lessons again. She studied with Korean soprano Jeannie Mayr who took Corinna back to her Bel Canto roots. Jeannie's unique mix of in-depth understanding of Bel Canto technique, intuition and wisdom mingled with Eastern Philosophies helped Corinna's artistic and spiritual development. In addition, in 2009 Corinna co-founded "The Vienna International Singers" which consists of a group of Opera Singers who are also UN Civil Servants. Together with Canadian Mezzo-Soprano, Elizabeth Dobie-Sarsam (former soloist with the Canadian Opera, studied with Robert Leonard and Irmgard Seefried and at the Royal Conservatoire of Scotland, Glasgow); and US Bass-Baritone, Brian Bales (12 years with Tulsa City Opera), the Vienna International Singers have performed at numerous diplomatic and charity functions. They performed at the opening ceremony of the IAEA Ball at the Hofburg Palace in 2010 and 2011 – selections of opera and operetta arias, duets and trios for an audience of over 4000 guests. The Vienna International singers have sung special concerts for charity functions such as the 2011 UN's "Cancer Day" for Her Royal Highness Princess Dina Mired of Jordan and the charity event ViennAfrica at the Museum für Völkerkunde (Vienna Museum of Ethnology) as well as several recitals and Christmas concerts at Schönbrunn Castle.
In 2011 Corinna also worked on voice over work for the Austrian TV show "Hubertusjagd" featuring host Prince Hubertus von Hohenlohe Servus.
2012 kept Corinna extremely busy. She sang ca. 40 performances while also working full time. Her performances included singing a nun in the Vienna Volksoper's production of "The Sound of Music" and in their production of Carmina Burana, as well as in Oper Klosterneuburg's summer festival production of Don Pasquale. In late 2012 Corinna received a superior achievement award/team award at the UN's IAEA for being on the IAEA Ball Committee and for helping to organize one of Vienna's most successful balls. Director General Mr. Yukiya Amano presented the awards at a special ceremony.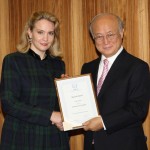 Corinna had organized and advised on (and sang) the classical music used in the opening ceremony and had recruited UN in house opera singers in 2010 & 2011 which was the birth of the Vienna International Singers a group of UN opera singers that sing at diplomatic functions, balls & UN charity events.
After over 40 performances plus working full time in 2012 Corinna took a performance break during 2013. However she did work as Programme Advisor and Stage Manager (as well as performed) for the 1st Vienna International Spring Ball held on the 16th of March at the Hofburg Palace and she performed during the opening ceremony of the Historischer Sommernachtsball on June 15th at the Casino Baumgarten.
In 2014 Corinna has a very full performance schedule again including Carmina Burana at the Volksoper, soloist at various Viennese balls and events including a solo recital at the historical Gesellschaft für Musiktheater as well as several collaborative projects with composers and artists (Click here for 2014 Performance Schedule)
2015 is the "Year of the Mermaid"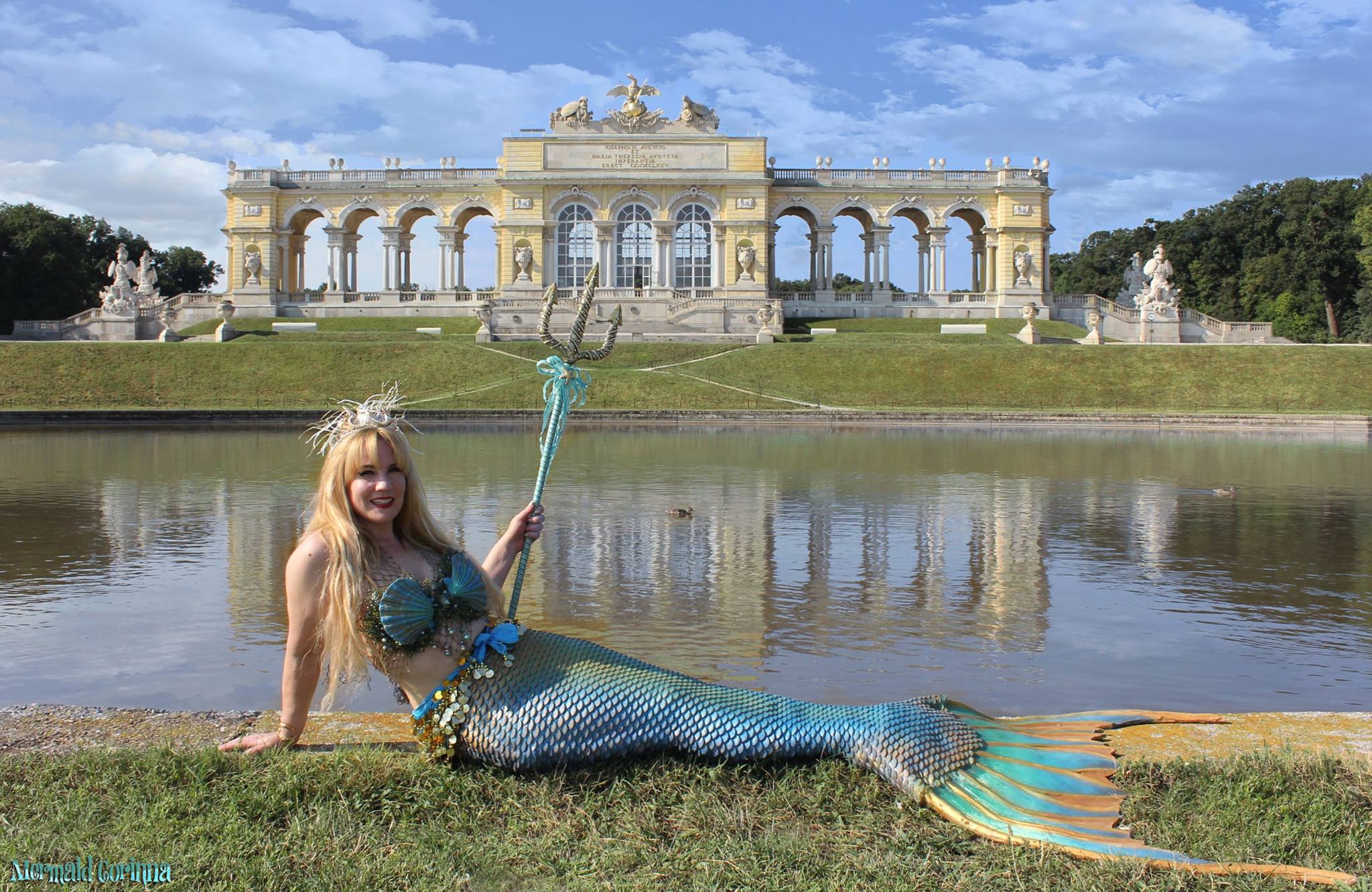 .
In 2016 the highlights will be singing in Tanzania, Africa.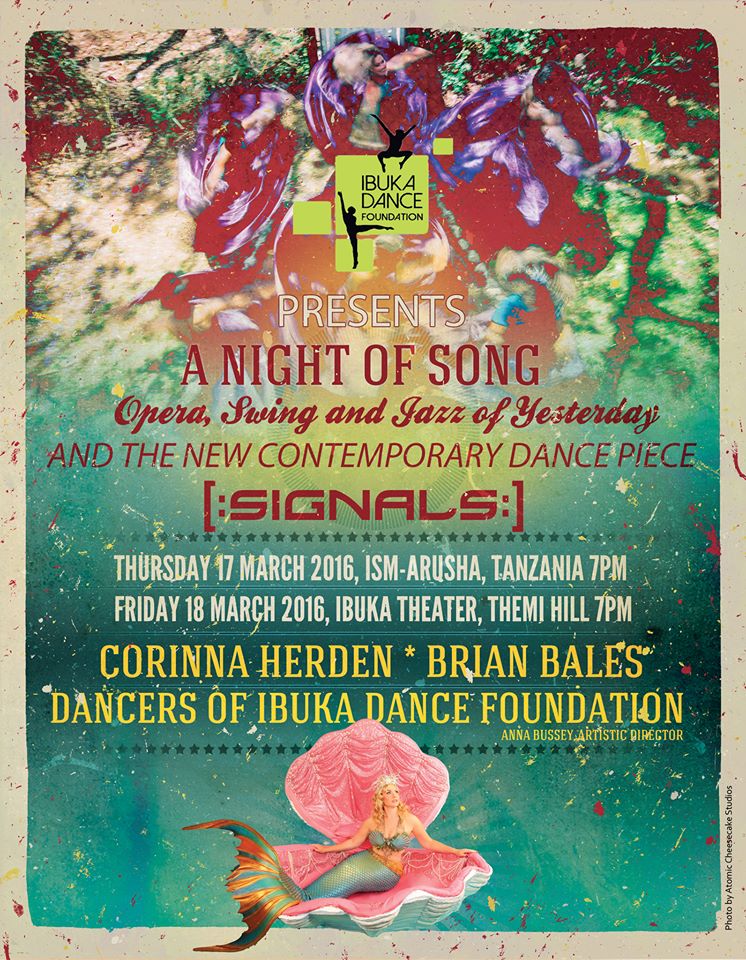 Continued adventures of Mermaid Corinna
Vice Magazine just recently published this article about Mermaid Corinna: Wien's Meerjungfrau

And singing in Cavalleria Rustican & Paglicacci with OperKlosterneuburg
To date Corinna has sung in 19 Languages (Arabic, Chinese, Czech, German, Elvish, English, Farsi, French, Hebrew, Italian, Japanese, Maltese, Russian, Spanish, Swahili, Swedish, Xhosa, Yiddish, and Zulu).